Radical. Relentless. Reborn.
Dynamic Precision
The new McLaren 765LT has a legend to live up to: Longtail. Every car that's carried this name has been unique. Extreme and utterly focused around the driver. All about maximum engagement. Searing performance. Sensational handling. Being based on the incredible 720S, the latest LT has everything in its favour. A flying start. And it delivers on every level. Radically lightened and lower, the 765LT uses innovative aerodynamics to create 25% more downforce than the 720S.
Handling that rewrites the rules. Electrifies. Total connection between car and driver. Everything important is enhanced by lightness. So extreme measures are used to cut weight. Every Longtail is defined by this uncompromising attitude. Which is why the 765LT weighs just 1,339kg. 80kg less than the lightweight McLaren 720S. The new, unique carbon fibre bodywork elements are incredibly light. The dramatic new all-titanium quad-exit exhaust system weighs just 10.9kg – 40% lighter than if it were made of steel. The whole interior is pared back to the LT essentials. And huge savings are achieved with the new ultra-light 10-spoke alloy wheels. Because they cut unsprung weight – which has so much influence on performance, handling and ride. Even glazing doesn't escape the obsessive search for lightness. Thinner glass is used. And motorsport derived polycarbonate. The 765LT was always going to be outrageously light. Like every Longtail before it. And the car that it's based on – the 720S – is already a model of lightness and agility. The weight of each wheel is unsprung weight. It's not supported by the suspension. Saving it creates a big advantage, because every kilogram cut here is worth the same as 4kg in sprung bodyweight.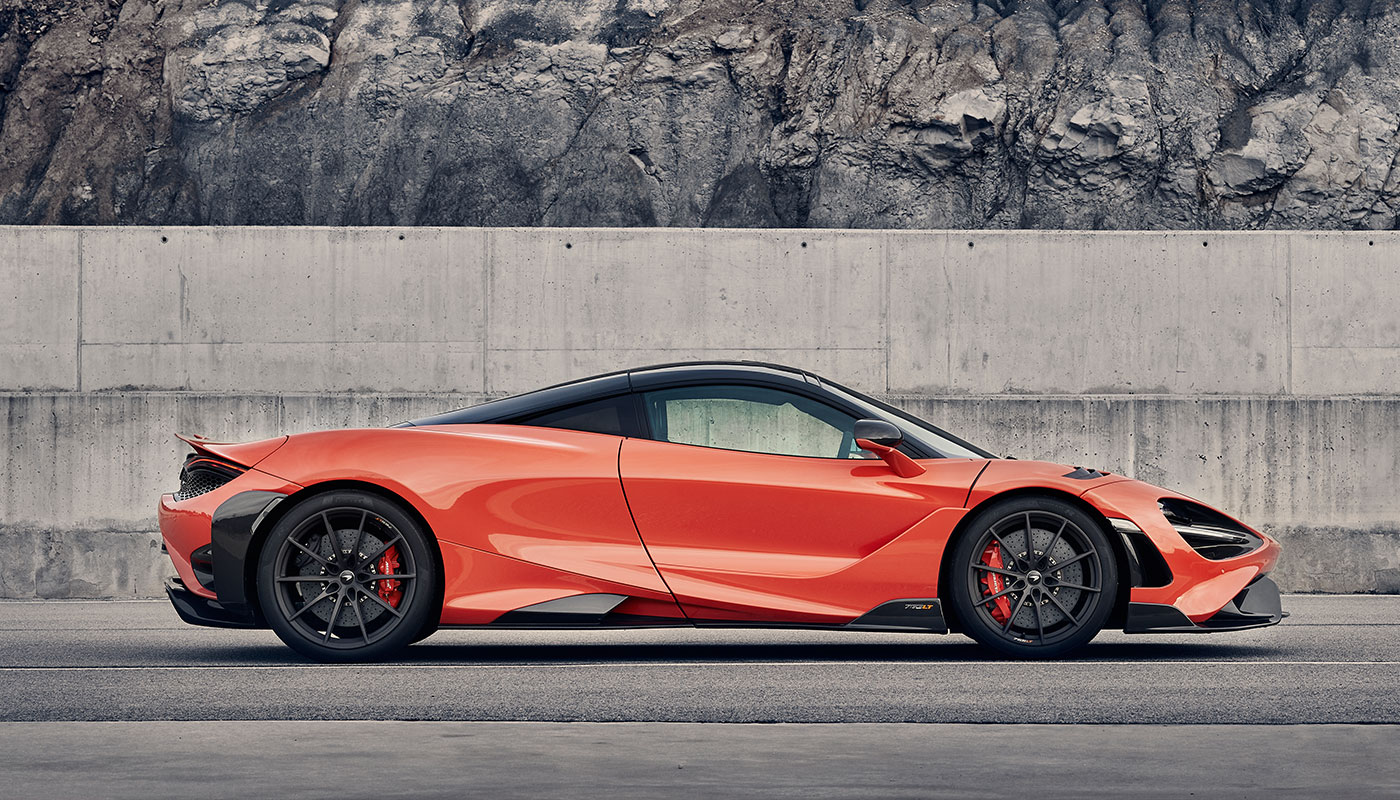 Aerodynamic stability. Instant responses. You see it in the stance – 5mm lower at the front. In the widened front track. The dramatic side air intakes inspired by the rule breaking prodigious McLaren 675LT. In profile, its elongated rear tells you that this is an LT to the core. The new active rear wing wing is a carbon fibre masterwork. Created at the McLaren Composite Technology Centre (MCTC), it generates huge downforce for ultimate stability and super-short stopping distances. Every Longtail is shaped by the spirit of rebellion. An obsession with going faster. Being better. Questioning everything and refusing to compromise. This extreme ethos inspires the design of the 765LT in every way. It's all about purposeful aggression. Bespoke carbon fibre body panels create a unique and thrilling silhouette. While a new active rear wing defines the Longtail profile. It boldly signals the rarity and extreme character of the 765LT. But as ever, form strictly follows function. This is a whole new chapter… in a story of relentless performance.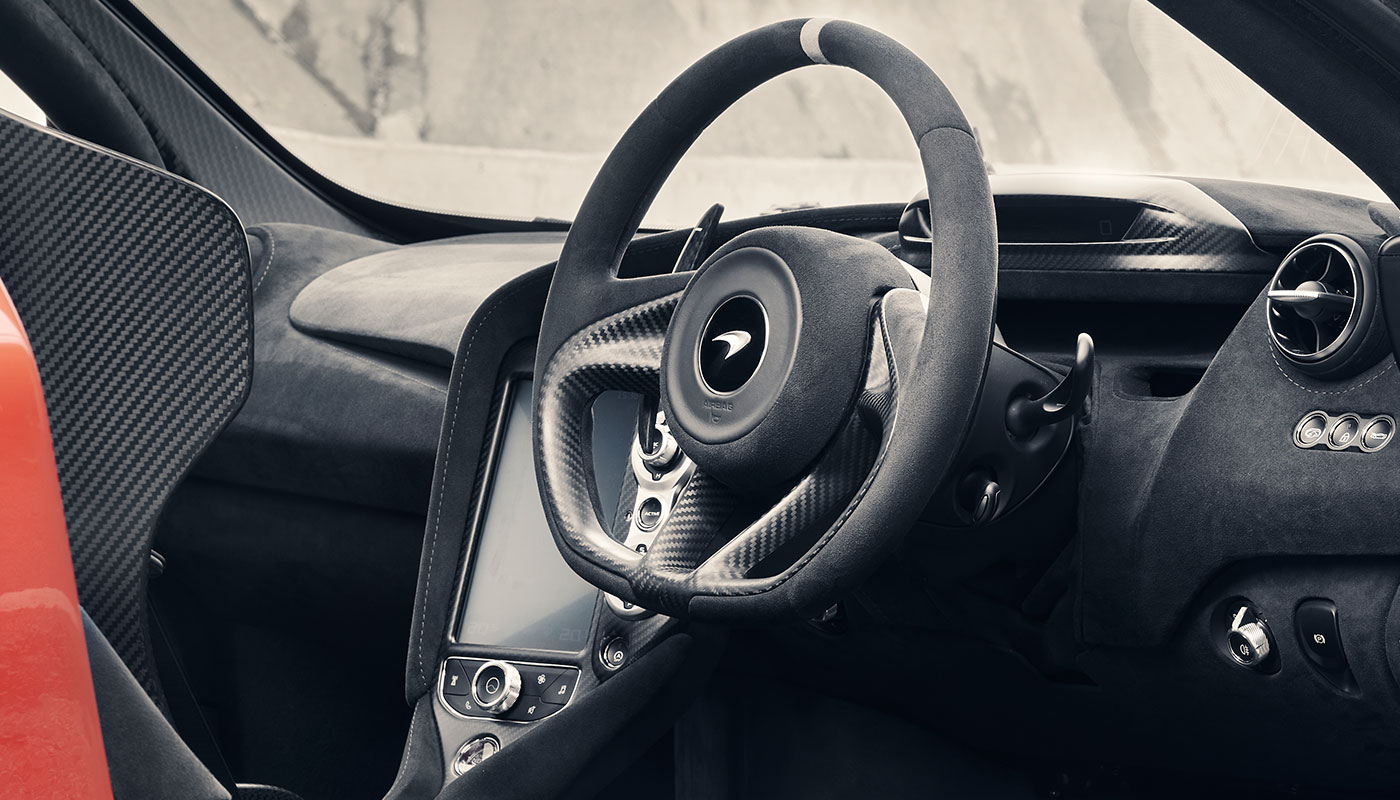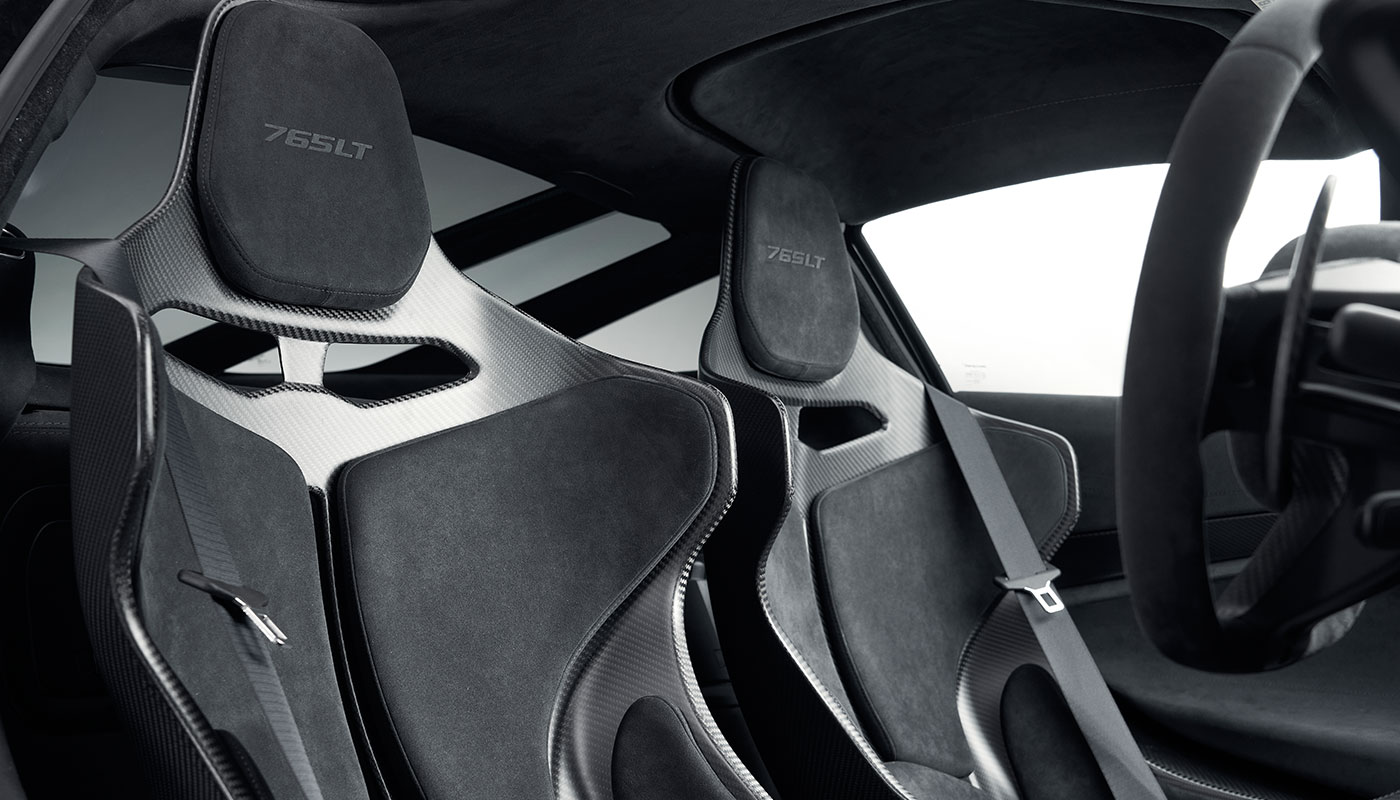 Your senses are treated to an intense, unfettered flow of information. From everywhere. The show stopping all-titanium quad-exit exhaust howls at higher revs. It's unique and unforgettable. Stiffer engine mounts and polycarbonate glazing allow extra engine sound into the cabin. The trademark McLaren electro-hydraulic steering is sensitive and full of feel because of a quicker rack and stiffened steering torsion bar. On every corner, camber and surface, the specially developed Pirelli P Zero™ Trofeo tyres allow you to explore cornering speeds beyond the conventional limits. Underpinning everything is the highly advanced ProActive Chassis Control II system, with software and hardware updates designed to handle the outer limits. And engage with the driver more vividly. More clearly... The line between instinct and engineering blurred beyond recognition. Every great engine has an unmistakable voice. It speaks volumes for pedigree and performance. Setting this voice free takes a boldly designed, beautifully engineered exhaust. The quad-exit full-titanium exhaust system in the 765LT is dramatic and exquisitely formed. Power means nothing in isolation. It needs to be deployed through a perfect balance of dynamic abilities. The 765LT harnesses and unleashes its huge power with visceral precision.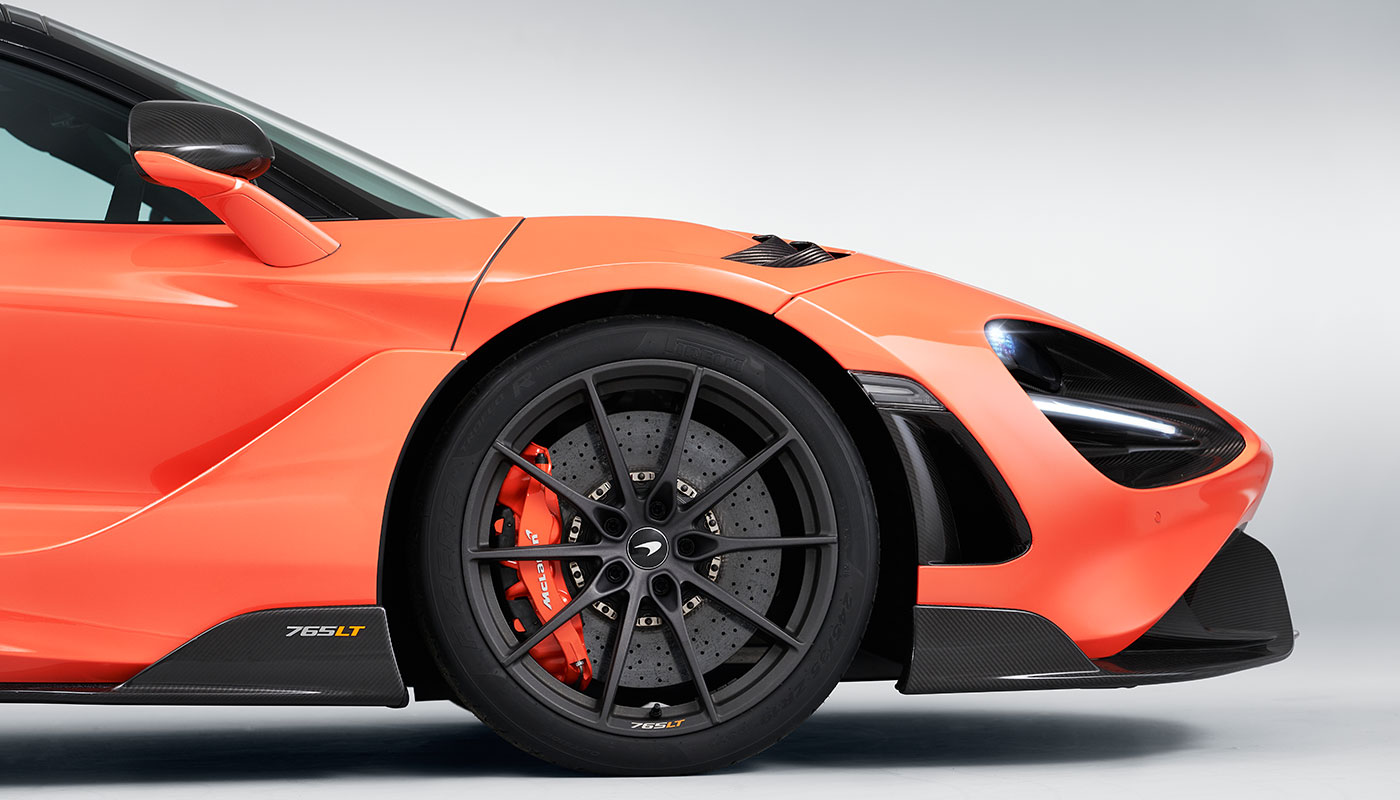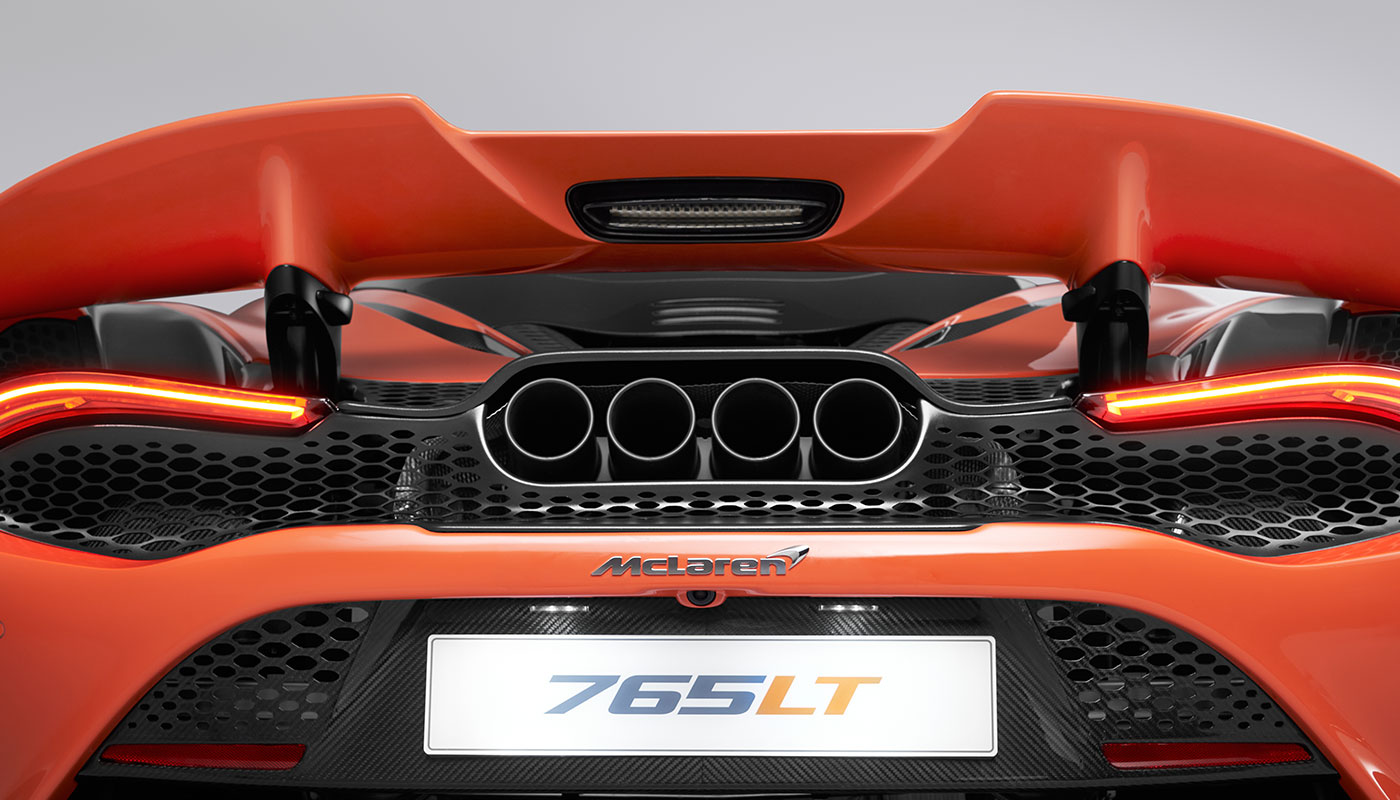 Where, when and how you want it. So every last drop of the 765PS available can be put to thrilling good use. This attention-grabbing power comes from a re-engineered version of the the same hardcore 4.0 litre twin-turbocharged V8 that propels the McLaren 720S. But here it Designed with a range of updates that generates an extra 45PS. And a phenomenal 800Nm of torque. Optimized gear ratios, with a unique and shorter final drive ratio created from Formula 1 grade materials, adds an even more savage edge to acceleration. While McLaren Senna engine technology and uprated high-flow fuel and oil systems, unleash the inner LT. And the proven mid-engine rear wheel drive layout is perfectly formed for getting this incredible power to where it belongs. 765PS. Enough power to change the game. To make history. Because the 765LT is the most powerful LT model ever. It raises the bar. And rewrites the rules. Shared DNA. It makes every McLaren special. Unmistakable. It's fundamentally the same world-beating powerhouse you'll find in the 720S. Enhanced with LT engineering… The result is a howling, thrilling 4.0 litre twin-turbocharged V8 that redefines performance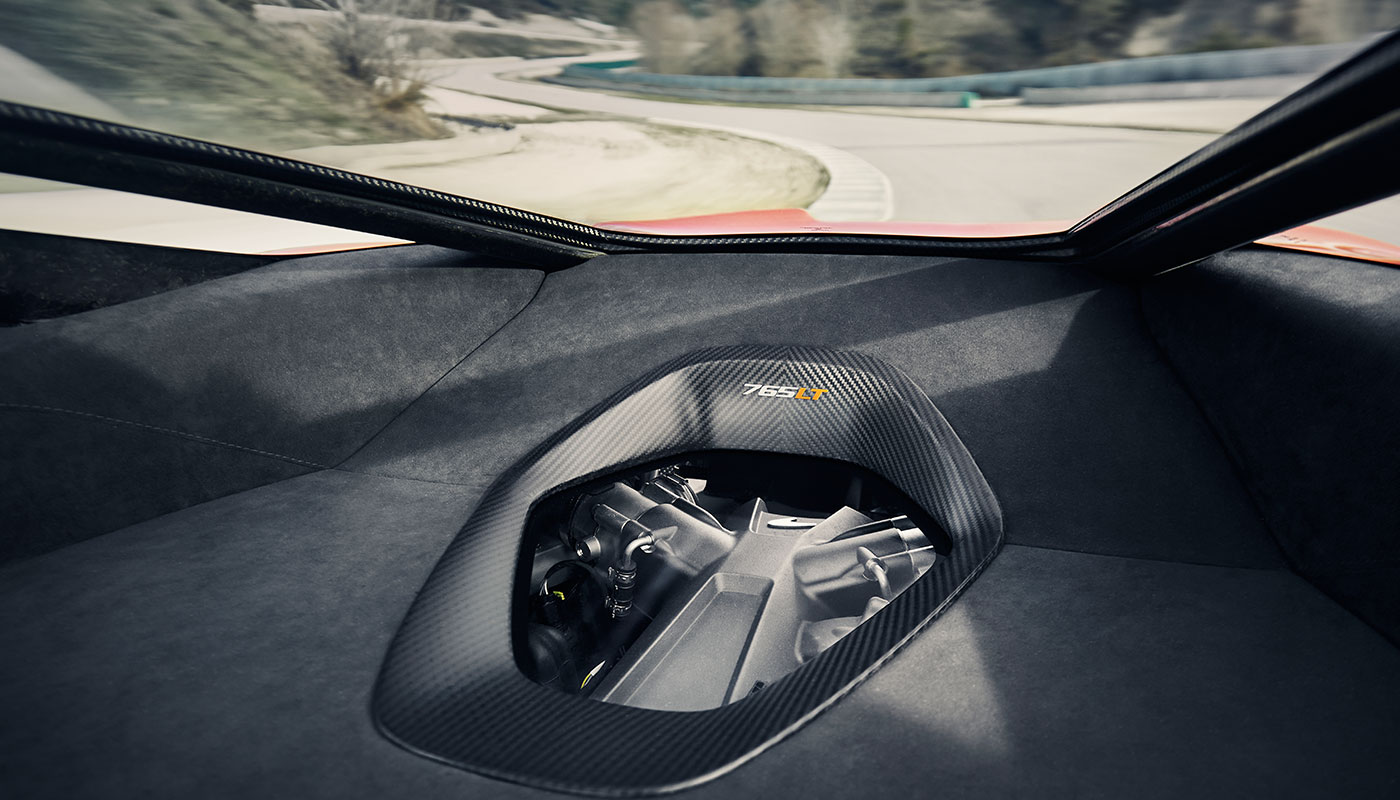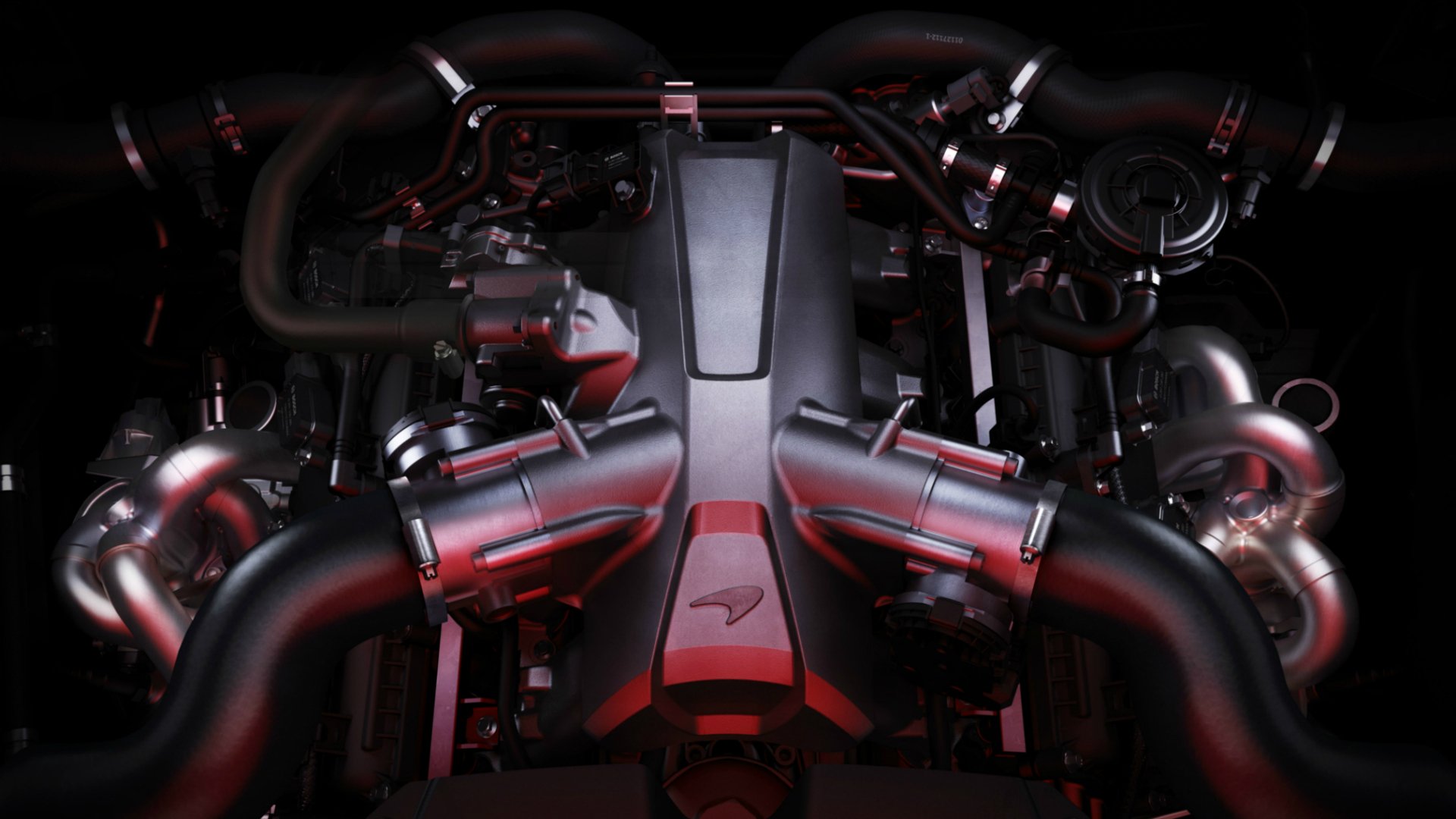 Technical specifications
Maximum Speed

0-100kph (62mph)

0-200kph (124mph)

Maximum Power

Maximum Torque

330kph (205mph)


2.8s

7.2s

765PS (755bhp)

800Nm (590lbft)
Engine Capacity

Type

Technology
3,994cc


V8, 4.0L

Twin Electrically-Actuated Twin Scroll Turbochargers
100-0kph (62-0mph)

200-0kph (124-0mph)

Dry Weight (Lightest)

DIN Kerb Weight

1,229kg (2,709lbs)


1,339kg (2,952lbs)