McLaren Automotive's all-new Artura, Elva speedster and a very special McLaren F1 are highlights at Pebble Beach week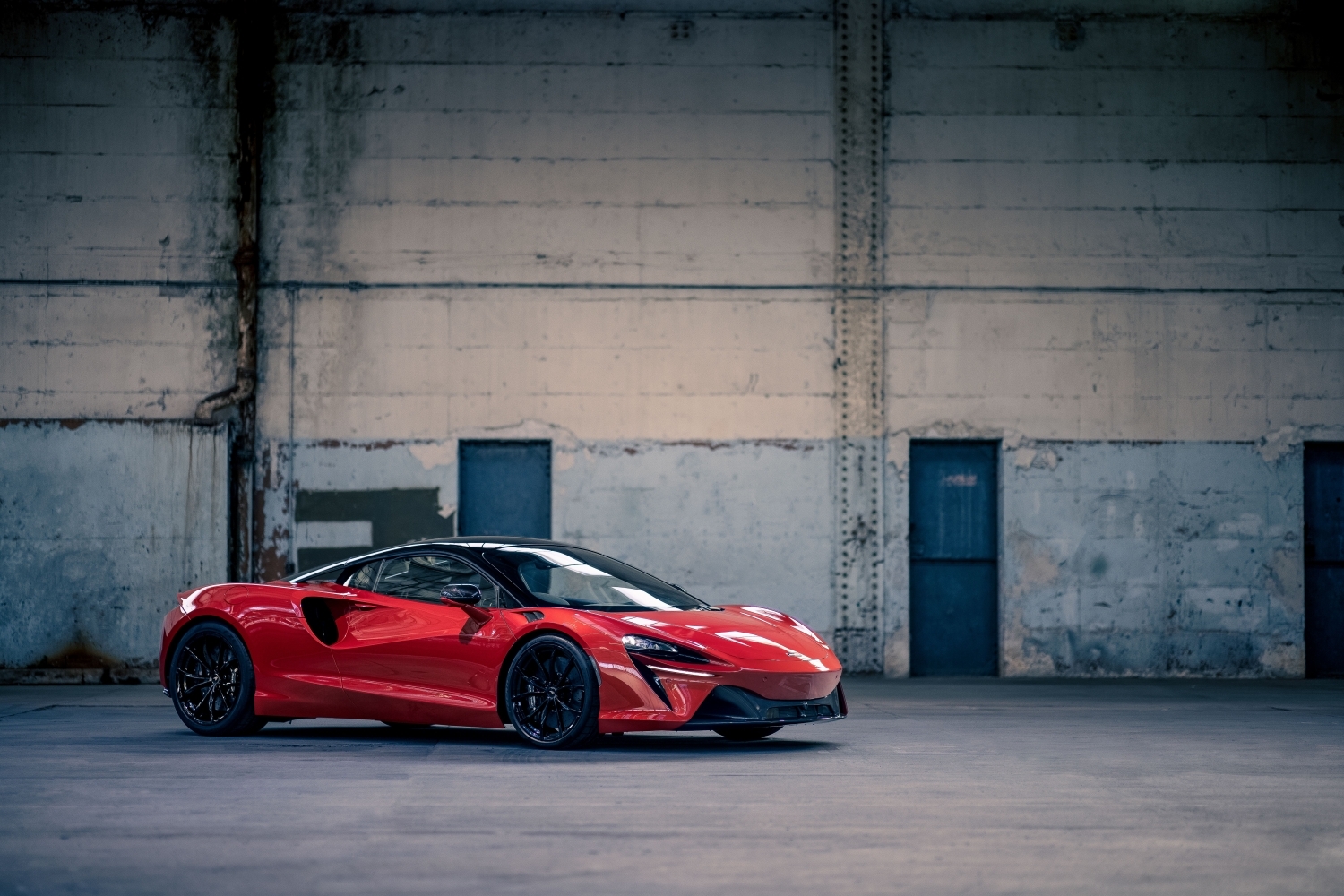 McLaren Automotive will be celebrating both its future and past across Pebble Beach week with some truly iconic supercars – as it marks its 10th anniversary in the North American market.
On Friday August 13th, the all-new McLaren Artura will be making its North American public show debut at the Road and Track Clubhouse at The Quail, A Motorsports Gathering. The Artura is McLaren Automotive's first ever series production high-performance hybrid, representing the distillation of more than half-a-century of expertise in race and road car engineering. The Artura will also be featured on the Pebble Beach Concept Car Lawn on Sunday August 15th.
The Artura is the first model to be built on the all-new McLaren Carbon Lightweight Architecture (MCLA), which is uniquely optimized for hybrids, and is built in-house at the McLaren Composites Technology Centre in Sheffield, England. The Artura blends thrilling performance, driving dynamics and engagement with EV driving capability. It afforded McLaren engineers new opportunities to innovate, chief among these being how to preserve McLaren's super-lightweight engineering philosophy when adding hybrid powertrain elements. The Artura remains true to every attribute inherent in a McLaren, while also being the most efficient McLaren ever produced.
The all-new twin-turbocharged 3.0-liter V6 petrol engine with an E-motor produces a combined output of 671bhp and 531 lb ft. of torque. The 94bhp E-motor delivers instant torque of 166lb ft, ensuring the sharpest-ever throttle response from a McLaren – 0-60mph in 3.0 seconds— while the 7.4kWH battery supports 19 miles of electric-only range. Performance is further boosted with a curb weight of just 3,303lbs, the lightest in its class.
An all-new lightweight eight-speed transmission integrates McLaren's first electronic-differential and new rear suspension, upgraded electro-hydraulic steering and Proactive Damping Control to enhance agility, stability and dynamic performance.
The overall experience is heightened by an exterior design philosophy which gives a "shrink-wrapped" pure and functional look, while the interior is completely new with smartphone mirroring support for Apple CarPlay® and Android Auto.™
Taking center stage during the McLaren Owners Club rally will be both versions of McLaren's newest Ultimate series car – the open cockpit speedster McLaren Elva. Available both with or without a windshield, the McLaren Elva celebrates the renowned Bruce McLaren-designed M1A and McLaren-Elva M1A [Mk I], M1B [Mk II] and M1C [Mk III] of the 1960s. Produced as 'customer' versions of the innovative and exciting Group 7 McLaren race cars, the McLaren-Elva sportscars embodied many of the pioneering design and engineering principles that are integral to the McLaren road cars produced today.
Limited to just 149 versions globally, the latest Elva is a ferociously fast, open-cockpit, extreme two-seater with a bespoke carbon fibre chassis and body but no roof, no windscreen and no side windows. With every sensory input heightened, this is a car that exists to provide unparalleled driving pleasure on road or track.
A 4.0-liter, twin-turbocharged McLaren V8 from the same family of engines that powers the McLaren Senna and Senna GTR combines with the lightest vehicle weight of any road car produced by McLaren Automotive to give the superlight new Ultimate Series roadster truly breath-taking performance across the board, with extraordinary levels of acceleration, agility and driver feedback.
On the evening of Friday August 13th, McLaren's road car origins will be celebrated with the much-anticipated sale of a 'time capsule' 1995 McLaren F1 by Gooding & Company.
This F1, chassis 029, has rarely been seen in public, having spent most of its time hidden away in a private Japanese collection. Presented in an almost 'as delivered' state, this iconic supercar has covered less than 390 kilometres (243 miles) in 26 years and remains in pristine, original condition.
"The McLaren F1 is widely regarded as the most important automobile built in the past four decades. It is a tour de force of automotive engineering with an unmatched competition pedigree, including an overall win at the 24 Hours of Le Mans. With just over 100 road and racing F1s ever built, this car will grant its next owner entry into an extremely exclusive club.
With its incredibly low mileage and attractive, one-of-a-kind color combination, this particular example represents an almost unheard-of opportunity to acquire an F1 in virtually as-delivered condition. This significant car will surely compete for the top sale of the auction week."
David Brynan, Senior Specialist, Gooding & Company
The auction will take place at the Gooding & Company marquee at the Pebble Beach Parc du Concours, located at the corner of Stevenson Drive and Portola Road. Interested parties can also watch the sale live on goodingco.com beginning at 5 p.m. PDT.